When building apps, one of the things you might think about is how to save time and resources. One way to do this with Bubble is to use templates.
However, there are reasons why using a Bubble template may not be the best option. There are also reasons why using a template could be the best choice for your Bubble MVP.
What is an MVP?
The moment you have an idea for a business, you need to assess if it's a viable one. There are a few different ways to approach this. One option is to launch a minimum viable product — or MVP.
MVPs are simple, and the core components of the template are adequate for you to test your business concept. For example, let's say you want to start a service that connects people who need help moving with people who have trucks. That's a great idea!
Your MVP might be a website that takes information from users and connects them by email. You can get this done quickly and cheaply, so you can start testing your idea in the real world.
The nice thing about MVPs is they are prototypes, not finished products. You can change or improve them based on what you learn during testing.
Creating an MVP helps you avoid months of work developing something no one will use — or even worse, jumping right into building something that no one will ever see because it doesn't solve a problem for anyone.
After all, it's easy to think your ideas are excellent when they're just floating around in your head — but it's quite another thing to find out if others agree once you put those ideas out there in some tangible form.
Why use Bubble.io to build an MVP
With no-code tools like Bubble, you can get your product to market faster.
"Good enough is better than perfect" applies here: fast to market is better than perfect. And you can build a product way more quickly in Bubble than from scratch.
Because of its flexibility, no-code lets you iterate without a headache.
💡
Don't try to build every feature first, or even every feature you think your users want. Focus on getting something out as soon as possible, then listen for feedback and learn what it means for the future of your product.
And because startups often pivot, you want the process of making changes to be as smooth as possible - especially if you're trying to keep development costs down.
Using a flexible stack, you can change it yourself without needing a dev team or a technical founder.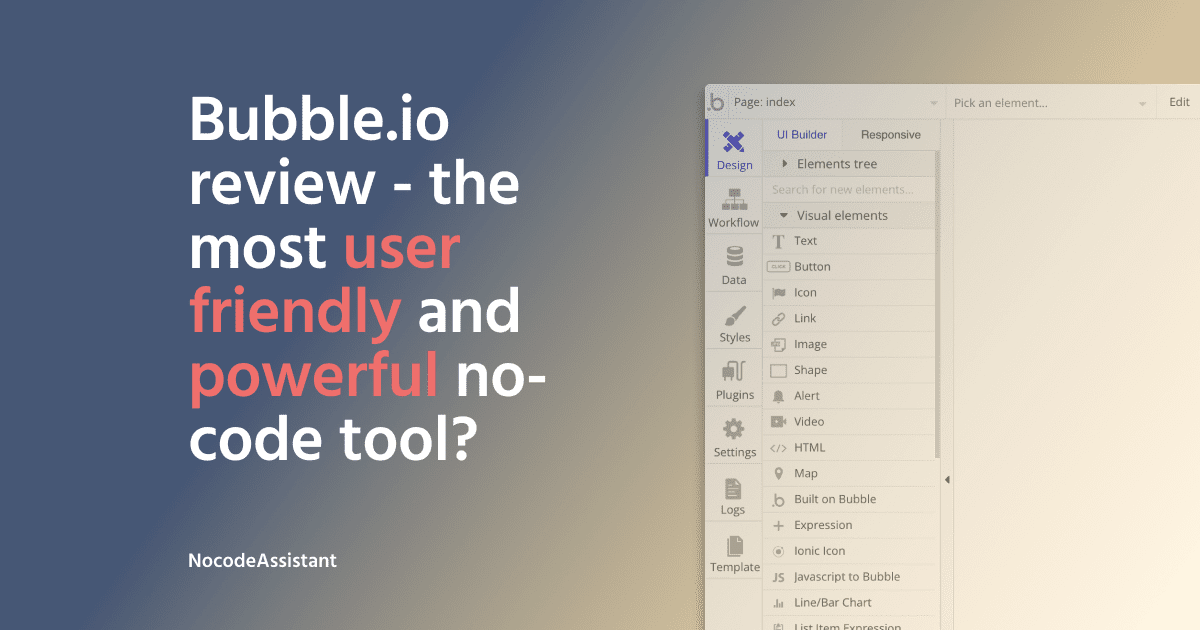 What is a Bubble template?
These Bubble templates can be a great starting point for creating your MVP. Templates are pre-made pages or elements with or without built-in functionality. They can help you save time and make your Bubble app look professional.
The templates make it possible for you to use copies of apps that are already successful and come with pre-integrated features.
For example, if you're building a marketplace similar to Airbnb, you can use a template for Airbnb in Bubble. This way, you'll have most of the core features taken care of without building it yourself in Bubble.
Types of templates in Bubble
Different Bubble.io developers and agencies offer templates in Bubble. And the way they build the templates can vary.
You'll find hundreds of templates on offer on the Bubble marketplace. Some of the most common Bubble templates are:
CRMs
Dashboard
Landing pages
Marketplaces
E-commerce sites
Internal tools
Directory sites
On-demand services
Project management
Online stores
Bubble templates can be a great way to start your own business, usually costing between $149 and $399.
Benefits of using a Bubble.io template?
Bubble is a no-code platform that allows you to create an app without writing code. However, the language it's designed in is its language, and it takes some learning to get up to speed.
Some of the apparent benefits of using a Bubble template are
It will take you less time to build your MVP.
It will save you the money you would've otherwise paid for a Bubble developer.
The template might come with pre-built complex features like payments, oAuth login etc.
You can learn the basics of Bubble with a template than if you were starting entirely from scratch.
Problems with using templates in Bubble.io?
There are a few disadvantages to using a Bubble template. A few are only encountered when you try to scale your Bubble MVP.
The template might not be optimised, and you might need to rebuild your app from scratch. This might be due to the database architecture, workflows that use many resources, or a clunky design.
The templates are provided as-is. They don't come with customisation support. If you need to make any changes to the template, you can either do it yourself or hire a Bubble developer.
The Bubble template may not have detailed documentation. This can slow you down as even experienced Bubble developers will need some time to familiarise themselves with the template.
They may not be a perfect fit for your business use case. Every market is unique, and businesses can differ significantly from one another. The template may not be designed to meet your industry's business processes and standards.
When should you use a Bubble template?
Your MVP is simple, and the core components of the template are a good foundation for you to test your business concept.
You want to copy a template feature in a separate Bubble app. Once you have the template, you can see the workflows and understand how it is designed. You can use this knowledge to create a module like this in your app.
You want to use the template as a starting point and add the features missing in the template on your own.
How to find Bubble templates?
Go to the Bubble Marketplace.
Search for keywords related to your app. For example, if you want to build a site like Airbnb, try typing "marketplace."
To narrow it further, select the template category from the dropdown.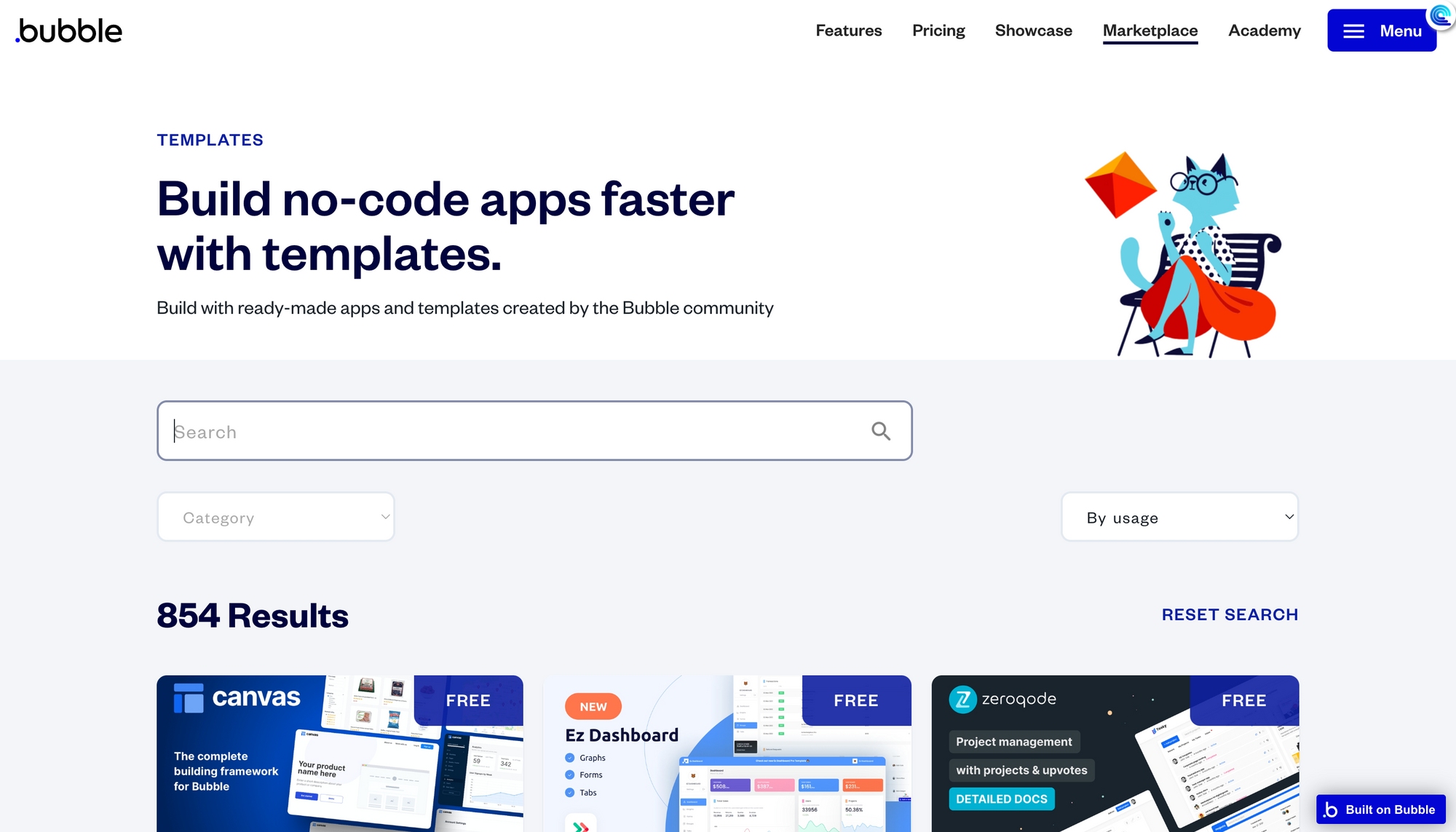 What does it cost to use a template?
Most Bubble templates sell for $149 to $399, but a few sell for a higher price.
For most people, their ideal Bubble template will cost them $299. This template will have the UI, workflows, data structure and security measures.
You might need to change some of the practices in these templates when you want to scale your app. This should not discourage you as you use the MVP template.
Can you make a Bubble template?
Yes, you can. You can convert a Bubble app into a template and launch it on the Bubble marketplace.
Create your seller identity by going to your Bubble account page. Go to Marketplace - Seller profile. Create a Seller profile to list plugins and templates on the Bubble marketplace.
Go to the Template section in your Bubble account. Click on "New template".
You can name your template and choose to either use an existing app or create a new one.
Once you're done, submit it for review.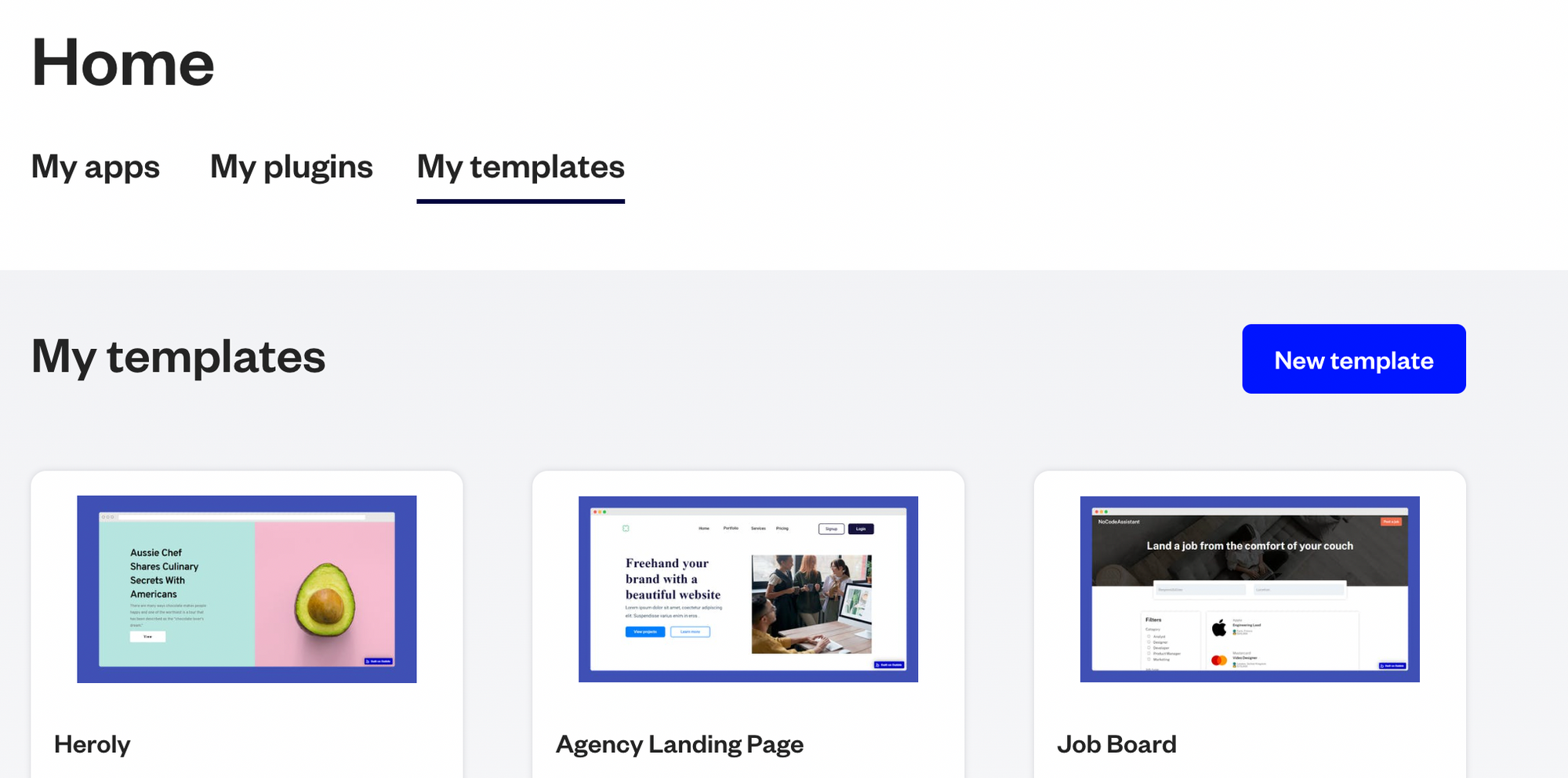 How to use a Bubble template in your app?
You cannot import Bubble templates into an existing app. You can only use a Bubble template for a new app.
The Bubble template serves as the foundation of your Bubble.io app. The template contains all the pages, data structures, workflows and integrations required for your app to function. These templates are easily customised so that you can make them fit your needs.
Go to your Bubble.io account and create a new app.
Give a name to your app and fill in the rest of the details.
Select the template you purchased in the "Start from a template" dropdown.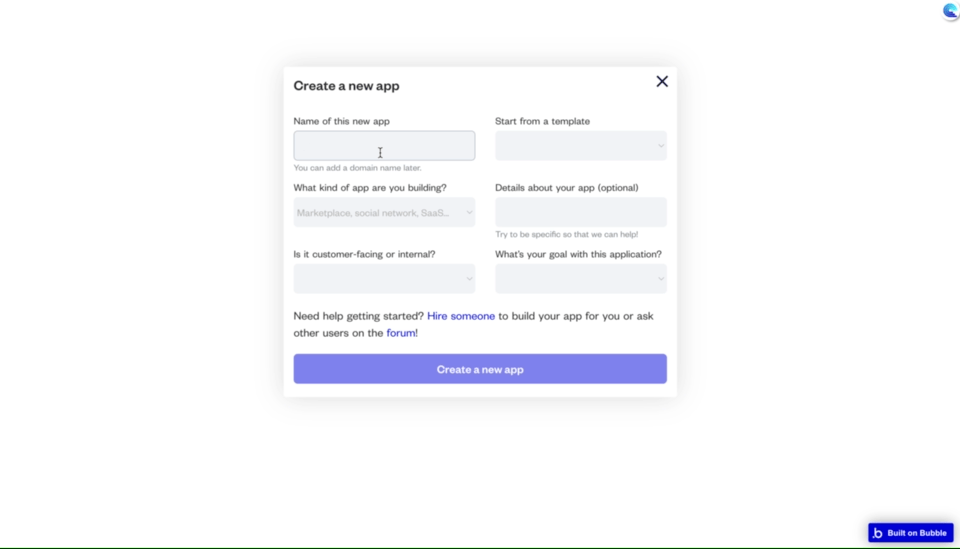 Can you edit a Bubble template?
Yes. You can edit everything from the text styling, colours, branding, workflows, database structure etc. You can edit a template as you would edit any Bubble app.
How to customise a Bubble template?
It's not uncommon to make changes to your Bubble template. As I mentioned above, they may not be a perfect fit for your business.
You have two ways of customising a Bubble template.
Do it yourself. If you are familiar with Bubble, you can do it yourself. After all, Bubble is meant to help non-technical people build apps without writing a line of code.
Hire a Bubble developer. You can find Bubble developers on Codemap.io, the Bubble forum or put in a Request for Proposal from Bubble agencies. At NocodeAssistant we can help you tweak the template.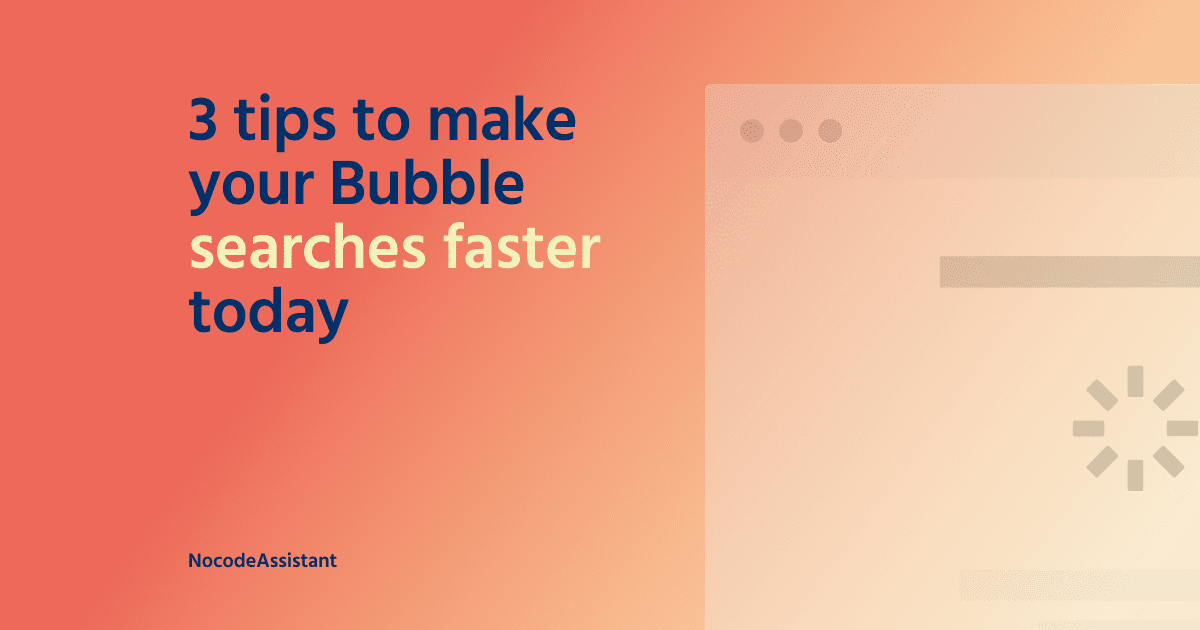 ---
If you need some help with your Bubble app or a team of Bubble developers to build a Bubble app for you, reach out to me at [email protected]. You can also follow me on Twitter.
---
Subscribe
Get Bubble tips straight in your inbox every two weeks!
---
---